A Snapshot of Student Housing Market
Global Student Housing Market:
Student housing is facing a global demand which exceeds the supply; studies assume that by 2030 demand will reach new levels. In Asia and the middle east, the number of opportunities for studying abroad has surged to recent numbers, especially in China and India, creating more investment opportunities in the western region. According to Tony Horrell, Head of Global Capital Markets, Colliers, "Global capital is back, and 2022 should be turbocharged in terms of dry powder looking to act. Both domestically and cross border, we will see real growth of major transactions across all key sectors." Moreover, in terms of global challenges, positive and negative aspects are present. The rising construction costs are a global concern cited by 80% of investors regarding the negative aspects. On the other hand, less situation on covid mobility and travel restrictions concerns 60% of investors. From a positive perspective, inflation is somehow positive in the real-estate sector since standing assets act on an inflation hedge with the possibility of economic growth and rental growth.

US Student Housing Market:
In the United States, most students are citizens of the United States, clarifying American concerns and desires. Also, Demand is surging in states with prominent universities and high barriers to entry, and occupancy remained the same even with the emergence of online courses; students are in their accommodation to experience independence and freedom and enjoy campus life. In addition, during pre covid, the gap between multi-housing and PBSA was 25Bps, and a spread between PBSA and multi-housing yields averaged 80 Bps in quarter one. However, during the heat covid, the gap reached 150Bps, and in 2022, it plunged t around 75Bps and is projected to compress. While examining the demand and rent growth of the United States, Demand exceeds the supply in student housing. also, rent growth is about 2.5, which gives a good indication of investment opportunities.
Furthermore, the market witnessed an enormous amount of dry powder spent in the US market, which reduces opportunities for investors who use debt as a part of the investment, creating high competition. In terms of ESG and LEED certifications, the United States is a bit behind. However, capital providers are discussing this topic.
UK PBSA Market:
The past two years witnessed considerable growth in the PBSA sector in the UK. The year 2020/2021 was the most significant first-year intake on record, where the growth of full-time student numbers was 8%. In addition, 2021 was also a record year for the Universities and Colleges Admissions ("UCAS") applicants, 560,000 were accepted from 750,000, and this was the second-highest number of acceptances in the UK based on undergraduates. As we know, UCAS only shows undergraduate Demand and numbers. However, there are always different entries and alternative application routes. Therefore, the accommodation demand will be slightly higher than UCAS statistics since UCAS acceptances represent 92% of enrollments in the UK. From a projection point of view, the estimation of the total number of full-time undergraduate first years in 2021/22 is just under 610,000, clearly showing the growth of PBSA nowadays.
According to Colliers, march PBSA investments volumes reached 4.5 billion, and investments are up 1.6 billion than the month before. Also noted is that the Q1 figure stands at 13 billion, which is up 10 percent from the 2021 figure. Moreover, colliers stated that investors are bringing capital and are greedy on PBSA due to the ease of travel restrictions.
Regarding the Autumn 2022 UCAS projection, numbers have stated that around 80% of UCAS applicants have applied by January. To estimate what happens, acceptance rates are usually 77%, and by having 760,000 applicants in an entire cycle, it's projected that more than 580,000 acceptances. Suppose we add applicants outside of UCAS territory. In that case, numbers will surge by approximately 30,000 applicants, and by adding them all together, we will have 631,980 in terms of statistics.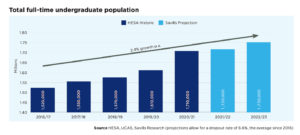 Savills wrote that yield stability shows how investors are attracted to PBSA for long income streams. This clarifies the maturity PBSA asset class. Also, stats show that around £930 million will be invested in the mixed-use segments and the alternative markets in March 2022. The PBSA attracted £430 million, up from £260 million in the previous month in terms of money attraction. Moreover, in the UK, the pattern of domestic and no European students is increasing rapidly; European students reduced due to Brexit and other factors. By 2030, the number of UK 18-years old will increase by 25%, which is a good indicator for the PBSA sector in the later years. Applications from high school graduates in the UK are setting new records, and rates rose by 44.1% in England, 37.5% in wales, 35.4% in Scotland, and 52.6% in Northern Ireland, which is considered the second-highest year ever.
Talking about good indicators to invest in says that Chinese people genuinely consider studying in the UK. Every year, more than 700,000 Chinese people leave their country to study abroad across the globe. Many of them are heading to the UK. In addition, china remains the more significant contributor of international students, with currently 605,130 students pursuing their degrees. Also, even with the harshest moments and extreme pandemic issues, the online experiment for the 2020/2021 academic year has failed. Students are more demanding for their entire student life either in university or accordions.
European Student Housing Market:
According to Savills, there is an expectation of growth in all European university hubs in the next five years. Most notably in the central Spanish and Italian cities. Therefore, in places where the supply of purpose-built student accommodation is limited, this will pressure rental levels in the city. The pandemic showed that rental levels plummeted over the past 18 months; however, projections state that rents will slowly start growing again. In addition, there is an anticipation of solid rental growth in cities like Valencia, Rome, Milan, and Seville, where in the past years, provision rates were low.
Nowadays, in Europe, Demand exceeds supply, believing that demand/supply imbalance will further accentuate in the next 12 months despite the considerable pipeline development in the last two years. Therefore, in Europe, new products to are aiming to ensure a better quality of PBSA for students to meet ESG certifications, which is an essential criterion for institutional investors and students themselves.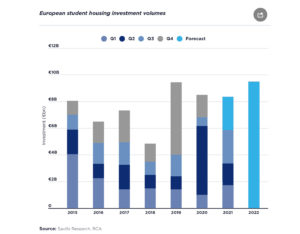 References:
Global Student Housing Webinar (brightcove.net)
https://www.savills.com/research_articles/255800/322004-0
https://www.savills.co.uk/research_articles/229130/327571-0
https://www.colliers.com/en/-/media/Files/UnitedStates/National/2021/GCM_2022_Investor_Report_122021
https://www.knightfrank.com/research/article/2022-01-21-confidence-returns-to-uk-student-market
---
Share it on
---